Constant Communication, Daily Updates, And Detailed Pricing…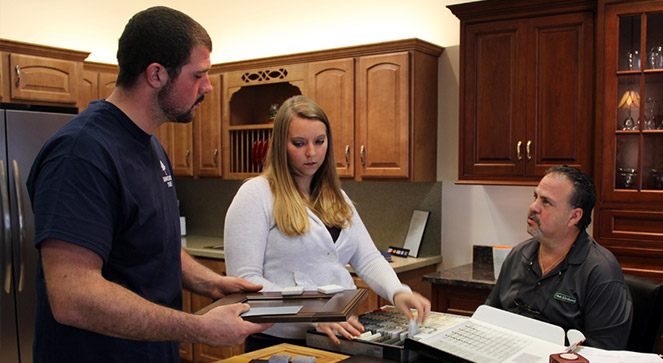 At One Week Kitchens®, You Know EXACTLY What's Going On – Every Step Of The Way.
Is there anything more annoying than being kept in the dark about something? For example: not knowing when a contractor is going to show up… or if they are going to show up at all. Or not knowing where your money is being spent. Or, worse, not knowing if you are getting EXACTLY what you pay for? In kitchen remodeling, there are a lot of things you need to know.
Count On ONE WEEK KITCHEN® To Keep You Informed And Updated On Every Aspect Of Your Kitchen Remodel.
We believe that an informed consumer makes a happy customer. It's why we go out of our way to make sure our customers (from Allentown to Berwick and everywhere in between) know exactly what's going on with their kitchen remodels at all times. From the very first phone call, to the very last walk through, you are made a part of the process.
You will never have to wonder when we are showing up or what we are doing. We always call to confirm our appointments and installs – and we show up when we say we are going to show up. When we arrive, we give you a briefing on what we will be doing — whether we are installing your kitchen floors, putting in custom cabinets, replacing your countertops, and everything else. And we always let you know when we're done for the day.
We also believe in educating our clients. Our philosophy: We Inform, We Educate – You Decide. It's why we don't just throw together a rough plan on a legal pad or make-up some low-ball "guesstimate" just to get you to sign a contract. We plan out every aspect and spell out every line item of your kitchen remodel.
Bottom Line: once we quote you a price – that is the price you pay… PERIOD. No games, no gimmicks, no surprises.
If you're ready for a brand new kitchen and an exceptional remodeling experience, give us a call. We provide kitchen remodels for many areas of Pennsylvania, including Allentown, Bethlehem,Clarks Summit, Bloomsburg, Kingston, Mountain Top, Danville, Lehighton, Stroudsburg, Dunmore, Dallas, Berwick, and more. We would love the opportunity to earn your business and make you a part of the One Week Kitchens® family.