So How Do We Do It – How Do We Give You A Stunning Kitchen In About A Week?
It's All About Our Process And Meticulous Attention To Detail.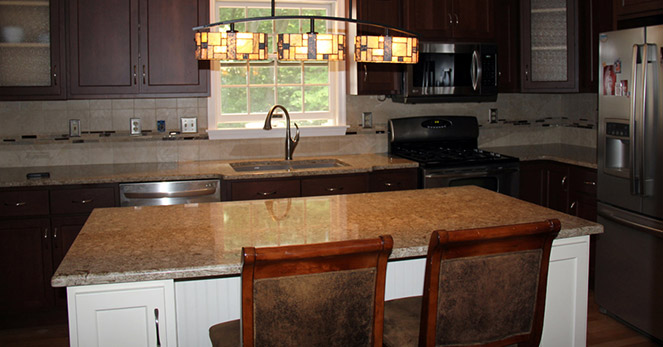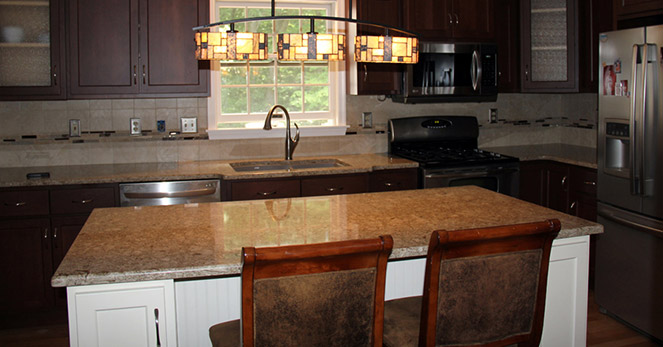 Our Process
1. In Home Meeting
At your in home meeting, our expert designer will measure and discuss the functionality and style details you want to see in your new kitchen. Our designer will look at layout options that best fit the space and your personal preferences. We will take detailed dimensions of the kitchen, look at electrical, gas and plumbing requirements. We will also take a multitude of pictures of all elements in your kitchen including cabinets, countertops, electrical, plumbing, flooring and any other details that will be worked into the remodel to help our designer in creating your beautiful new kitchen. This will also help ensure not a single detail is missed during the remodel stage.
2. Initial Consultation
First, we want to meet you so be prepared for an invite to our Forty Fort or Quakertown kitchen showroom. Please understand, this a consultation – NOT A HIGH PRESSURE SALE. The purpose of the meeting is to get a feel for your wants and needs and to allow you the opportunity to get a feel for the quality products and materials we use. It is here where we offer you guidance and help you decide what cabinets and countertops will work best for you based on your needs and budget.
In the showroom, you can get ideas before our designer meets with you in your home. Once you have seen all the options and have some idea what you want your dream kitchen to look like, we will schedule a meeting in your home.
3. Design Presentation Meeting
After the first steps are completed we will provide a design or series of design options for you. Our designer will meet with you to further discuss specific design elements and materials that may be used. The focal point of this meeting is to view drawings so that you can further visualize what your kitchen will resemble after your kitchen remodel with One Week Kitchens®. Once you have seen the design and discussed the materials, we will put together a price package for you, including any discounts or pricing specials. This meeting is typically in our showroom, where you are able to see exactly what products will be used in your new kitchen.
4. The Agreement
Once design discussions are complete and a price is agreed upon, we will have you sign the kitchen remodel agreement. This agreement will include a copy of your design and a list of all the materials you selected. It also outlines the work that will be done and the payment plan.
Once the agreement is signed, we will never add any extra cost without a change order that is signed by you. Our goal is to avoid change orders at all times, and to deliver the project on time and on budget based on the original agreement. In other words, the price we quote is the price you pay…PERIOD.
At this point, you will be given an estimated install date.
5. Ordering Materials
Once your paperwork is processed all of your materials will be ordered. This step will take place within 48-72 hours after you sign your agreement. If you would like to change anything that was stated in your specifications, we ask that you please notify us as soon as possible so we can adjust the order.
6. Inventory And Receiving Your Job Materials
As your items begin to arrive, they will be checked to make sure they are exactly what you ordered and also free of damage from shipping or the manufacturer. Once all of your materials are here, we will call you to schedule your installation. At this time, we will let you know if there is anything you need to do in preparation of our arrival. This is one of the most crucial steps in our process. By ensuring all products are in stock before starting, we avoid time delays during the installation process.
7. Delivery And Professional Install
We arrive promptly on the day and time as agreed. Our skilled installers will go over the plan with you and answer any questions that you may have. Then they will get right to work removing your old kitchen. Remember, many of our kitchen remodels are completed in a week. Most, if not all, of the demolition and prep work will be completed on the first day. By day two, the installers will begin working on the floor and cabinets. The job will progress from there and you will be amazed at how quickly our installers work. By the end of the five or six days, the installers will bring you into your beautifully remodeled kitchen. The goal is to complete your kitchen remodel in as little as one week. More detailed and complex kitchens will take longer. We will never forego quality craftsmanship simply to get a job done quickly. A beautiful kitchen and happy customers are always our main objectives.
Now that you have read all about our process, if you are interested in scheduling an appointment or would just like to speak with a designer, simply contact us by clicking here.